Jessica's in San Francisco to visit Grady, who's there on business. At the airport, she runs into her old friend Michael Hagarty and quickly gets involved in international intrigue involving a political assassination. In order to keep Jessica safe, Michael devises a ploy to have her arrested.
Just the facts ma'am:
Spoilers are in white font, so highlight the text below to reveal the answers.
The victim was… a Bulgarian sent to pay off a political assassin!!
killed by… The Cobra, a mysterious assassin who is currently passing himself off as

a member of the state department

!
in… an alley behind the Elliott Grand Hotel!
with… a gun!
because… he wanted to tie up loose ends and not have anyone left to identify him!
vital clues:

a post card with an uncancelled stamp

.
Cast of characters:
Much of the mystery in the episode is centered on an MI6 mission to stop a political assassination and figure out who The Cobra is.
Len Cariou (left) reprises his role as MI6 agent, Michael Hagarty. This is his third of seven total appearances on the show, always as the same character. The episode makes specific reference to "that business with our embassy in Washington", which is likely S3E4 "One White Rose for Death".
John Rhys-Davies (center) plays Michael's boss, Lancaster, in his first of three total appearances on the show. (John Rhys-Davies is probably now best known for playing the dwarf Gimli on The Lord of the Rings.)
Maxwell Caulfield (right) plays British counter-intelligence agent, Roger Travis, in his first of two total appearances on the show.
The episode also features multiple police characters:
Michael Callan (left) plays local police detective, Sgt. Nash, in his second of four total appearances on the show. (He previously appeared in "Murder, She Spoke".)
Sam Behrens (center) plays state department representative, Kevin Styles, in his first of two appearances on the show.
Ron O'Neal (right) plays visiting Miami police officer, Sgt. Joe Santiago, in his only appearance on the show.
Comic relief in this episode is provided by:
Michael Horton (left) reprising his role as Jessica's nephew Grady in his 9th of 12 total appearances on the show.
Debbie Zipp (right) makes a brief appearance as Grady's fiancee, Donna Mayberry. This is Zipp's 3rd of 5 total appearances on the show, but only her second time playing Donna. She previously appeared in "The Days Dwindle Down" and "Just Another Fish Story".
Leslie Easterbrook (left) plays freelance journalist Glenda Morrison in her first of four total appearances on the show. Easterbrook is probably best known for playing Callahan in the Police Academy franchise.
Maureen Arthur (right) plays Jessica's fellow inmate, Veronica, in her only appearance on the show.
Final thoughts:
Season 5 premiered in late October 1988, following a major writer's strike that lasted five months. As a result, I think the script feels a bit more convoluted than other episodes, likely due to the rush to get the episode made as soon as possible. In particular, the whole international assassination plot line is a bit hard to follow. But on the plus side, the writers made sure to insert lots of humour and comic relief.
For instance, this "confused Jessica" gif is lifted from this episode: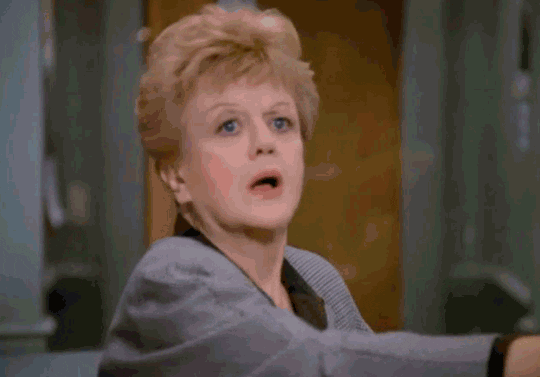 But frankly, I'd be confused as well because although police have her ID, that's not enough for them to believe that she is who she says she is. And for whatever reason, Jessica believes that if they just went out and bought one of her books, they'd see her picture on the jacket. But… wouldn't her ID have her picture on it, too?
---